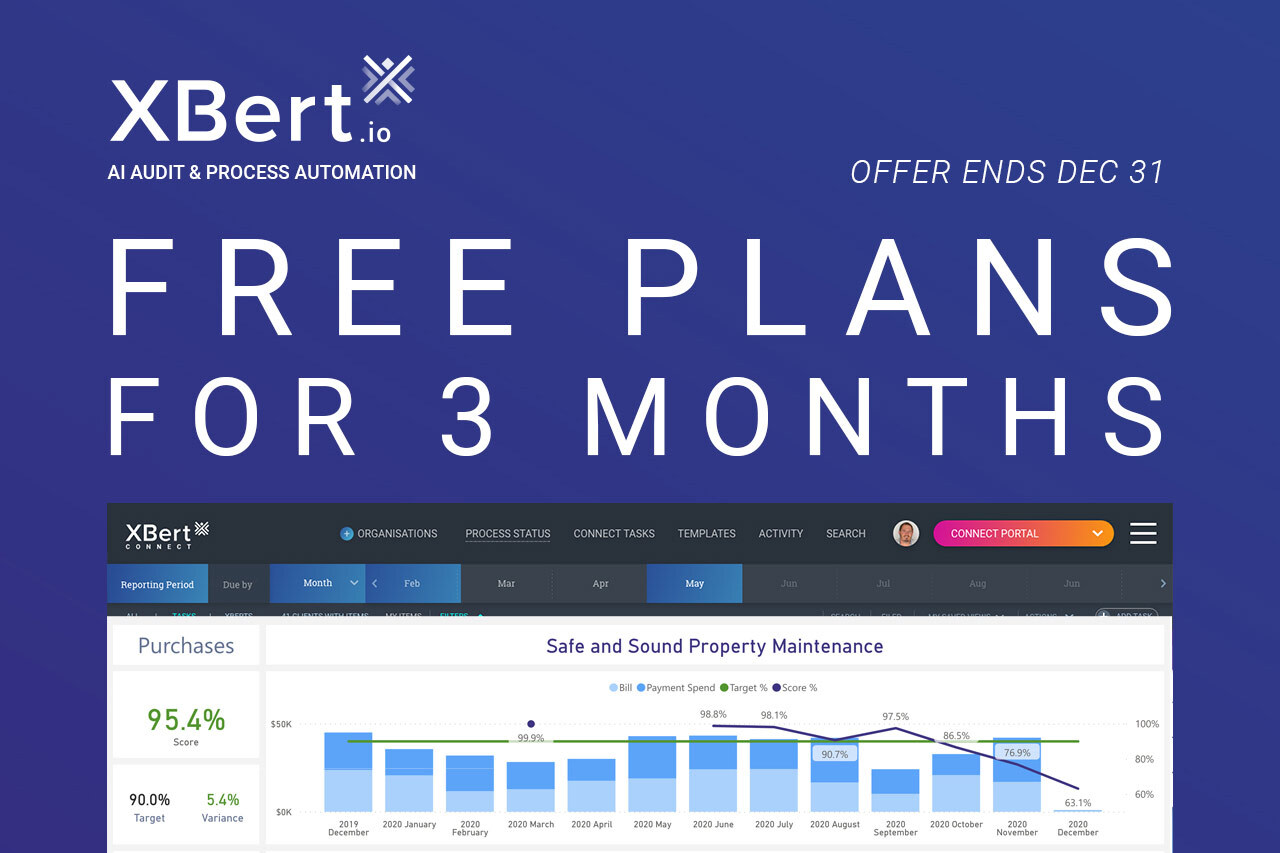 It's fair to say this year has been challenging for many – and accountants and bookkeepers have been at the coal face.
Working from home; managing a team online; dealing with clients in financial stress and staying across changing stimulus packages consistently….never has there been a more pressing need to reduce your manual tasks, have full visibility across your practice workflow and have access to accurate, up-to-date data and analytics for your clients.
That's why we want to give you a bit of a break heading into the new year with exclusive discounted access to XBert and everything it has to offer. Save up to $1500* on all our features including:
AI Audit
Task & process automation
Full visibility across practice workflow
Analytics
BI reporting …and so much more.
All in one place. Like outsourcing all the open tabs in your brain, into one user-friendly system.
The coronavirus and ensuing lockdown taught us how important having online presence for your business is. Knowing what your team has to do, and by when is not only necessary for productivity but is a game changer for transparency and for your team to know exactly what's expected of them at any given time. XBert's task and process automation makes this a breeze, with the ability to assign tasks, see where they're at, add due dates and comments, plus have full visibility across your team at all times.
It also dramatically emphasised that expert advisory for clients can make or break a business. Enter: XBert's analytics and BI reporting. Developed to help practices grow their advisory with complete confidence in the numbers, this data is available within XBert at the click of a button, giving you deep insights into your client's business health at any given time. With practice-branding available on the BI reports, it's a great onsell to your clients (and can offset your XBert subscription costs).
To date, XBert has more than 50 Expert Business Alerts (XBerts) that have been developed to help bookkeepers and accountants reduce manual tasks and the need for rework, while easily collaborating with their team and clients. Many of these have been designed thanks to user-feedback and new XBerts are being developed all the time.
Take our latest release, for example: Employee Leave Entitlements Missing will check across all Full Time and Part Time employees to ensure their leave has been set up – and if not, will send you an alert.
Or, some of our GST-related XBerts such as Non GST account has GST against it, Large GST activity for contact without ABN or Business has incorrect GST status in relevant situations and contain direct links to the ABR to help you check and resolve quickly.
There are even tricky XBerts that track common transactions within an organisation and flag if something out of the ordinary comes along: like Unusual Monthly Billing Paid or Unusual Monthly Invoicing Paid.
That's really just the tip of the iceberg, though. To find out just how much time, brain space and money XBert can save you, you need to get in, load some client files and see for yourself.
Can you afford not to have XBert implemented in your practice for 2021? We don't think so. And that's why we're offering an incredible deal to close out 2020.
FREE PLANS FOR 3 MONTHS
Sign up for a free trial before December 31, 2020 and we will waive the monthly plan fee on our Light, Manage and Grow plans for 3 months.
Unlimited users at no extra cost, always. You'll also get 30 days before you pay for the files you connect - so tidy up before the New Year on US!
Simply sign up for your free trial and enter the coupon code by December 31 to redeem this incredible discount. Look forward to a smarter 2021 with XBert.